---
By the time Joan Chen (then known as Chen Chong) was 17 years old, she was a movie star in China. "I was considered the darling of the country," she said, in an exclusive interview for aiisf.org. "Everyone had a picture of me in their home."

Joan was discovered on a Shanghai school's rifle range – she was an excellent shooter -- by no less an authority figure than Jiang Qing, the wife of Chairman Mao Zedong. In 1975, when she was 14, the Shanghai Film Studio placed her in the Actors' Training Program. As a teenager, she starred in four films, Youth, Little Flower, An Overseas Chinese and Awakening and gained wide acclaim in China.


This was in the late 1970s, when China was just coming out of the Cultural Revolution. This was also the time when Joan's parents, both medical doctors in Shanghai, had won a Sloan Kettering fellowship to do research in New York.

While in New York, her father, Dr. Chen Xing Rong, and mother, Dr. Zhang An Zhong, made plans to bring Joan, a student at the Shanghai Foreign Language Institute, to the United States.

"They arranged for a school to give me a tuition waiver and somehow arranged money for my airline ticket," Joan said. "So I started the process in China to apply for a passport. But I was considered as a national treasure of some sort, and they weren't going to let me leave.  My leaving would be viewed as a form of treason."

That process, she remembers, was a "difficult journey." It took a year "begging at every door" in the Beijing bureaucracy to get a passport from the Chinese government. "That was the hardest thing I ever did in my life. I was 19," she said.

Coming to America


Finally, on August 26, 1981, she landed at JFK Airport, New York City, met by her mother and a relative. This was the beginning of Joan's American adventure.

Her immigration story illustrates one of many different pathways taken by people from all over the world to come to America for better opportunities in education and other endeavors and, for many of them, to ultimately contribute to the vibrancy and vitality of this country, while maintaining some of their root cultural heritage.

In Joan Chen's case, the initial reason for her immigration was vaguely educational. Her parents "always wanted me to get the best education. They never believed one can do this (film) business for a long time," she said.

But Joan was completely unprepared for America, in large part because her focus in the year prior to her arrival was getting the proper departure documents from the Chinese government, not in learning about America.

She knew little of the United States. That was not unusual for young Chinese of her generation. China and the United States had restored full diplomatic relationships only a few years before her arrival. China's major economic reforms, that would embrace free enterprise and later open China to the world, had only just begun.

Having grown up under the strict communist regime of Mao Zedong, as a youngster in Shanghai, she had heard Americans were "imperialists." There was also a vague sense of "freedom" attached to the United States.

"I know it's a free country and you can do anything you want," she said of her impressions of America growing up. "But 'freedom' was actually such a bother when I first arrived. Imagine going to the supermarket, and seeing 20 kinds of shampoo, and 20 kinds of toothpaste! With no party cadre telling you what to do. I wasn't used to choices and I was so lost. Freedom was very difficult."

There weren't books about America in her early education, nor any significant exposure to American culture through movies, television, or radio.

She does vividly remember one American film, however. It was Waterloo Bridge, a 1940 Hollywood film starring Vivien Leigh and Robert Taylor. "That was the only American movie that I had seen. She (the character played by Vivien Leigh) was a ballerina whose boy friend went to war and died. She had to become a prostitute to support herself. But her boy friend actually survived the war and came back. Tragically, it was all too late. During that era in China, romantic love was considered bourgeois and not seen or expressed anywhere. This film filled a void in my young imagination. Nowadays, I see dozens of films every year, but this sentimental tale stayed with me through out the decades."

Studying English in Shanghai, Joan remembers getting pages from Time Magazine that her mother mailed from New York. "Once a week in the classroom, we did an oral report of any topic just to make us speak English, and I always had the best information because I had a page or two from Time Magazine. There was one article about the tens of thousands of fans, who spontaneously gathered in Central Park (New York City) to commemorate Elvis Presley. That was amazing to me because nothing in China was ever spontaneous during that time. I did that for my oral report, and everybody was fascinated."

Elvis Presley caught her fancy. "China was just starting to open up, and my classmates and I looked everywhere, but we couldn't find anything about Elvis Presley, so I asked my mother to send some more information on Elvis to me. My mother sent me a tape, which included the song 'Love Me Tender,' and I said, 'Oh, my God, I'm going to America.' My parents wanted me to go for an education. I wanted to go to the land of Elvis Presley."

Beyond her fascination for the late great singer, she had given no thought to what she might do in America, once she arrived. She was all of 20 years old, a movie star in China but a nobody in America.

The first sights in New York City dazzled her. "The buildings, the bridges, the cars were all overwhelming. I remember asking the stupidest questions. 'Oh, so on the bridge, if you go this way, it's all red lights, if you go that way, it's all white lights. Is that what people do?' I didn't know they were the headlights and the tail lights!" Although Shanghai was a major city, like the other Chinese metropolises in the 1970s, it was still dominated by bicycles, not privately owned cars.

She spent one night with distant relatives in a New York suburb and then enrolled at State University of New York (SUNY) in New Paltz, about a two-hour car trip north of New York City. SUNY New Paltz is where her parents were able to place her with a tuition waiver.

"I had never been so lonely," she recalled. "I had no clue of what I was feeling. I had no clue what my life was going to be. I just felt intense homesickness. I think I was in shock and depressed, although I did not have the word 'depression' in my vocabulary."

California Here We Come!

Joan was at SUNY New Paltz for only one semester before transferring to California State University at Northridge.

Her move to California started with a phone call out of the blue. Since she had no friends or family in the area, she had never used the phone in the hallway of her SUNY New Paltz dormitory. One day, she got a surprise phone call. It was from Professor Paul Chow of Cal State Northridge.

He invited Joan to a Chinese film festival Cal State Northridge was having over the winter break. He told her that she was the star in two of the four films in the festival. Besides the airfare and a stay with his family, he tossed in an added incentive – a trip to Disneyland.

Right after Christmas 1981, Joan flew out to California. To this day, she still doesn't know how Professor Chow was able to track her down in an upstate New York university.

Joan was a featured guest at the film festival. She met many overseas Chinese who had settled in the San Fernando Valley, where Cal State Northridge is located. "They took me to Disneyland and to Universal Studio, and the weather was balmy. 'Well, this is great,' I said."

It was also the beginning of Joan's California adventure. Professor Chow and a colleague helped work out a plan for Joan to transfer to Cal State Northridge and to provide her financial support. "I was so happy. First of all, I finally met some Chinese people who were a little more like me – Chinese exchange students and Chinese American professors, and second of all, California is just a much more livable state."

Joan settled into her new life in southern California. She was in the media department of Cal State Northridge. She lived in a spare room in the house of Richard and Sandy Hyde, a white American couple. She worked as a hostess in a Chinese restaurant in San Fernando Valley, earning enough to buy a used car.

"I felt a little less lonely," she said. She liked having a car and driving to work, but money was tight.

One of her Cal State Northridge classmates happened to be a stunt woman, working in the movie industry. In idle conversation, Joan told this classmate that she was a movie star in China.

"'What are you doing in a restaurant?' she said. 'You should try acting. It pays much better!'" Joan remembers. "I told her I didn't know how to start. She said I had to find an agent."

There was only one talent agent that handled Asian and Asian American actors at that time, Joan discovered -- Bessie Loo, a former actress. She paid the Bessie Loo Agency a visit.

Had this agency ever heard of Joan Chen, the famous Chinese teenage actress? "No, I was just another pretty girl," Joan said. Guy Lee, an actor and agent who worked at the Bessie Loo Agency, listened to Joan's story about her movie career in China, but wasn't impressed. "Nobody believed me, but that was fine," she said.

The agency took her as a client, and one day, Lee called her about a possible job – for a "cheerful girl" in a fast-food chain's commercial.

"I carefully made myself up, and got my best clothes, took the bus for an hour and a half, or two hours. When I got there, there was a crowd of girls. It was so intimidating, girls of all colors, all beautiful. I just took the next bus back. I didn't audition. I was so scared," Joan recounted.  "The concept of auditioning was alien to me. I was brought up to be modest and do what's assigned to me. I was not able to go up to someone and say I am the best person for the job. Being able to do this would take years to come."

Lee wasn't happy with Joan not auditioning, but he called her again in a few months for a non-speaking part posing as Miss Taiwan. She won the role. Several months later, she received another call to audition for another bit part, this time speaking one line, "Do you want to have some tea, Mr. Hammer?" Again, she got the part.

Getting these two minor roles meant she could now get her Screen Actors Guild (SAG) card, a valuable acquisition for an aspiring actress. She was 22 at the time, still studying at Cal State Northridge.

First U.S. Movie Break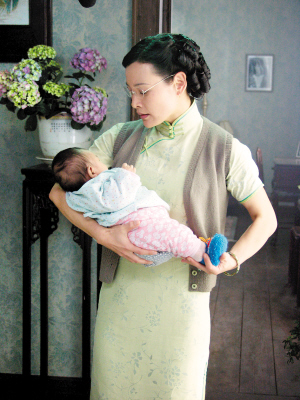 Her big break was, well, like a Hollywood fairy tale. She went to an audition at Lorimar Studio, which was looking for a Hawaiian woman episodic character for a series to be shot in Hawaii. When it was her turn to audition, the studio officials noticed she was Chinese, not Hawaiian. She didn't get the part.

As she was walking to her car in the Lorimar parking lot, a big car with an older man pulls up behind her. "He saw me from the back. He turned and he looked, and he said with a strange accent, 'Do you know Lana Turner was discovered in a drug store?' First of all, I didn't know who Lana Turner was. Second of all, here was this stranger, an old man in a big car. I walked ahead without talking to him, and he followed a little more.

"'This is my card. Have your agent call me. I will see you and your agent at 2 p.m.,' he said. I called my agent, who said, 'Oh, Joan, this is Dino De Laurentiis!" Joan hadn't heard of the famous Hollywood movie producer.

De Laurentiis was looking for an Asian woman to play the part of Mei Mei for the upcoming film Tai-Pan, based on the James Clavell bestseller set in Hong Kong.

"For some strange reason, they were casting the part of Mei Mei all over the world for a long time without me even knowing it," Joan said. "For some reason, I completely missed this, or they looked at my photo and didn't want to audition me."

After Dino De Laurentiis saw Joan in the Lorimar parking lot, they wanted her. She and her agent met with the producer at 2 that afternoon. A couple of days later, she got the part after a screen test.

"Mei Mei in Tai-Pan was a leading part. In that way, it was a break, but the movie was so lousy, that it didn't really bring me any bigger or better acting opportunities," she said.

Almost Side-Tracked

Getting acting jobs, finally, was gratifying, but Joan confronted a familiar immigrant dilemma. She was in the United States legally on a student visa. But she did not have documentation to work.

At about this time, Congress passed major immigration reform legislation which, among other features, called for more stringent checks on the status of immigrants. 

"I got so nervous," Joan said, thinking back on that time. "I was working illegally, even though I had the SAG card. I didn't have a work permit of any kind, and on the first two jobs, they never checked. Now they wanted a copy of a passport, and/or a work permit of some kind. So they began to check. Now what was I going to do?"

She called a Chinese American friend who worked in the film industry and beseeched him to go to Las Vegas with her to get married. That occurred in 1985.

Being married to a U.S. citizen meant Joan got a so-called "green card," or a document certifying her as a legal resident of the United States. With the green card, she could work legally in America. She became a naturalized U.S. citizen in 1989.

This first marriage lasted four years. "It was in a way a sacrifice for both of us. We were not meant to be husband and wife," she said with a chuckle.

About the same time, Joan tried hard to win the leading female role in Year of the Dragon, the 1985 film directed by Michael Cimino about Chinatown gangs and the detective played by Mickey Rourke trying to combat them.

The leading woman was to be a Chinese American newscaster who spoke perfect English and who was Mickey Rourke's love interest. "Looking back, I had my very fresh-off-the-boat Chinese aura," Joan said. "The role called for a sophisticated English-speaking newscaster. I never had a chance at all, but I was just so determined."

She hired a coach to teach her to speak perfect American English. "I had an accent and none of the cadence of a newscaster, the kind of sophistication that was needed for the role."

She didn't get the part, despite getting a strong push from the casting director, Joanna Merlin, who "really liked me. She just saw something special in me that she loved."

"I was so crushed…after a half a year of struggle, after I had paid all my money to a speech coach at $200 a session. I thought that it was all for nothing."

Biggest U.S. Movie Break


All was not lost, however, as the casting director Merlin later called Joan, "You won't believe it! There is a perfect part for you. Bernardo Bertolucci is directing The Last Emperor."

Because of Joan's favored status with Merlin, she had a special meeting with the director. "I met him before anyone else did. I had more time with Bernardo for him to really get to know me. I didn't have to go through the audition machine, where a whole line of girls each spent 10 to 15 minutes to try to prove themselves. As a matter of fact, Joanna Merlin told Bernardo to look no further for the role of Wan Rong after meeting me, though the casting of the film continued for another half year." In the end, Bertolucci offered the part to Joan.

That was truly her big break. She had taken a year off from her studies at Cal State Northridge to work in Tai-Pan, but was back at school when she won the leading female role in The Last Emperor.

The Last Emperor brought her great notice and attention. "All of a sudden, I got calls from big agents, big producers. There was lots of interest. Fashion magazines, like Vanity Fair and Vogue did spreads on me."


But this sudden flurry of attention was short-lived and limited. Despite her beauty and acting talent, Joan found barriers to gaining starring roles in Hollywood. "They said, 'Wow, this is fresh, this is great.' But there were no stories or scripts that suited me. There was nothing that they could create for me to be a part of…If I were a young white ingénue, I would have broken out for real," she said without rancor.

She got other parts in Hollywood films, but none was of the caliber, quality, and appeal of The Last Emperor, which won nine Academy Awards in 1987, including Best Picture and Best Director.

Her next major starring role in an American film was in The Blood of Heroes (1989), a futuristic adventure-thriller directed by David Peoples. She had the lead female role, opposite Rutger Hauer. "I loved that movie," Joan said. "It was a big departure for me. The part wasn't written for an Asian woman. The part was actually written for a rugged, Amazonian-type woman. I am actually kind of short and small, but they changed it for me."

Her next significant role was in David Lynch's quirky murder-mystery network television series, Twin Peaks, which ran for two seasons (1990-1991) on ABC. She played the character of businesswoman Josie Packard in the ensemble cast.

"I sensed a strong desire from studios to work with me, but they couldn't quite imagine me in any of the films that they were making.  Back then, and even today, the exotic element that I bring in is only one spice for the dish. You know you're responsible for being that one element, but when there's no dish that requires that spice, they don't know what to do with me. Somehow I didn't fit into the menu," she explained.

"There is only a version of yourself that's accepted, not the whole spectrum of yourself. I represented that exotic element. Though there were a lot of meetings, a lot of attention, not much came out of them.

"Certainly I was never a real careerist, I was more instinctual. There was never a grand plan for myself.  Experiences in life seemed to matter more than a career. I just did everything. There are always jobs, but there was never a well-designed career path to follow."

Roles in several mediocre – Joan calls them "bad" – films followed, such as On Deadly Ground directed by Steven Seagal (1994) and Judge Dredd starring Sylvester Stallone (1995). She did enjoy playing the role of a Vietnamese mother in Oliver Stone's Heaven On Earth (1992), a powerful film that didn't do well at the box office.

Becoming a Director


Frustrated by getting only "exotic" opportunities or those in iffy projects, Joan turned to directing in the late 1990s. She not only directed Xiu Xiu: The Sent Down Girl, but also was its executive producer, producer and co-writer. She filmed Xiu Xiu, the story of a Chinese teenage girl "sent down" to a remote area during the Cultural Revolution, in China without the Chinese government's permission.

"It was the most exhilarating experience in my life, but it was really an ordeal," she said of her Xiu Xiu (1998) directing experience, "because of the harsh physical conditions of filming in the remote Tibetan steppes, and the constant fear of expulsion by the Chinese authorities."

Despite the hardships and political cloud, the film won many critical prizes, including seven Golden Horse awards, the Chinese-language Oscars, for Best Film, Best Director, Best Script, Best Actor, Best Actress, Best Music, and Best Production Design. It was invited by many prestigious international film festivals for official competition.

Her other directorial effort was Autumn in New York (2000), an American film starring Richard Gere and Winona Ryder. Though she was only a last minute "hired gun" after the previous director resigned from the film, she couldn't believe her good fortune. Joan clearly remembered how 19 years ago when she first arrived in New York, she didn't understand there were white headlights and red taillights on a car. Not in her wildest dreams, could she imagine directing two big movie stars in an MGM picture.

Over the past decade, Joan has returned to China to star in a number of Chinese films. In this period of great political and economic change in China, Joan has found more interesting characters to play in her native country. She has also starred in two Australian films. One she is especially proud of is The Home Song Stories, a 2007 Australian production about the tumultuous journey of a glamorous immigrant Chinese nightclub singer and single mother from Hong Kong to Australia. She won four Best Actress awards for her brilliant performance, including the AFI Award, which is the Australian Academy award.

Another noteworthy acting role she had in 2007 was in Ang Lee's Lust, Caution, a powerful, sensual espionage drama set mostly in Shanghai in 1942, a period of turmoil and unrest in China. She plays the role of the wife of a Chinese collaborator with the Japanese invaders.

Off-Screen Life

Joan lives in San Francisco with her husband, Dr. Peter Hui, an interventional cardiologist, and their two daughters, Angela, 11, and Audrey, 7.

Within this family, there are multiple cultural identities and languages. They all speak English. Joan is fluent in Shanghainese (her native tongue), Mandarin, and speaks some Cantonese. Her husband is fluent in Cantonese, but only understands a little Mandarin. The two children speak Mandarin and some limited Cantonese.

Joan has lived 28 years in the United States, working and raising a family. In recent years, she has been traveling to China as many as three times a year, to film and to visit her parents, who are still living in Shanghai.

She is comfortable with her dual identity. "Your first 20 years are your most impressionable years. So there is no escaping that."

She confirms something she said in an interview with The Vancouver, B.C., Province on October 3, 2007, that appeared on Canada.com. "I had always considered myself a Chinese living in America until I had children...They sing the American anthem, so I feel a little more affinity now to being a Chinese-American. I used to feel I wasn't a part of that."

She said, in her interview for aiisf.org, "I never did share the suffering of most Chinese Americans, which is the identity crisis. I suffered more the loneliness of a sojourner.  That is until my daughters came along. They gave me a real home in America. My children are little Americans. I try very hard to keep them up with the Chinese language. I speak Mandarin to them, and send them to weekend Mandarin classes. They spend a month and a half of their summers in Shanghai. I try very hard, but they are still little Americans."

Her husband, Dr. Hui, has his own interesting immigration tale. He was born in Beijing, Joan said. "His father hired a snakehead and smuggled the two of them out in the hidden compartment of a sampan, first to Macao, then Hong Kong, when he was five. Then he came (to the U.S.) at 11. He is very American."

Embracing Dual Identities

Joan willingly celebrates both her American-ness and her Chinese-ness. "Now I embrace both and can be critical of both. I do see merits in being both. For a long time I somehow didn't want to accept Chinese Americans or many American concepts. 

"I remember meeting Chinese Americans who were extremely kind to me, when I first came. There were two doctors who were friends of my parents. They were very kind to me. But I was looking at their redwood carved Chinese furniture, and I said, 'How vulgar! China is not like that all.'

"(Chinese American) people talked about money and the stock market. I said, 'Oh, god, How vulgar!' Is it just all about money? That's very vulgar. I was a little communist for the longest time.

"But now, I am grateful of the exposure I had in my youth. I had a communist education. I had a capitalist education (chuckles). I understand both China and America. It has really added to my life experience, and has really enriched me as a human being."

Her views on the China of today are intriguing as well. "I love the energy in China. It's a country in the midst of great change. Every day is filled with great human stories, weird things, unfathomable happenings. I love the cunningness, the ingenuity, and the wild imagination people use to get rich nowadays (chuckles). I really enjoy those stories.

"At the same time, after a month (either working or visiting family), I am going, 'Oh, I so want to go back to America."

Joan and her family enjoy visiting Angel Island, which had an immigration station that operated from 1910 to 1940. It was a western gateway for immigration and for enforcement of the 1882 Chinese Exclusion Act. They have visited the immigration station two times. Joan tells her daughters about the history of Chinese immigrants on the island.  It is also a lovely place for the family to spend a day picnicking, hiking or just sitting and listening to the waves. 

William Wong is author of Yellow Journalist: Dispatches from Asian America, Images of America: Oakland's Chinatown, and co-author of Images of America: Angel Island.
Photos from the film Little Flower, Jasmine Woman, The Last Emperor, and Xiu Xiu.